Sports Injury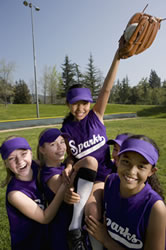 Sports are fun, until someone gets hurt. If you or your family member gets sidelined, remember that time is of the essence. The quicker the injury gets proper attention and functioning is restored, the quicker you will be back in the game.
At Active Life Chiropractic, Dr. Gunther has worked with:
Rotator cuff injuries
Tennis Elbow
Golf related back injuries
Rolled Ankles
Runner's Hip/Knee/Ankle injuries
Wrist/Finger injuries
Football 'Stingers'
Martial Arts Injuries
Rodeo: Thrown from horse/bull
Weight Lifting Injuries
And many more!
Don't stay on the injured list, give us a call and get back on the court.